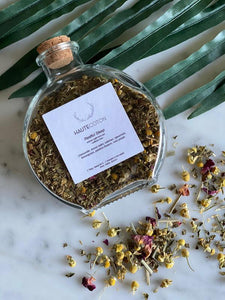 Haute Coton ~ Restful Sleep Tea
Relax and unwind before bed as you sip on an artisan made herbal tea blend made of calming chamomile, spearmint, lemon balm, valerian, lemongrass, passionflowers and rose petals.
Treat your senses & add a calming routine to your bedtime rituals helping you or that special someone sleep deeper through the night!
THE LOGISTICS
Available for pick up in store, 48-hour turnaround.
All reviews
---
Reviews for After Glow
Reviewed Product

"Is it ok to say I might actually be addicted to your green Juices? Started with drinking one After Glow each day and now find that my body just craves the extra veggies in Pure Green. Absolutely delicious!"

Sarah K.